Why a Garden Room Makes a Perfect Spot for Visitors
From an art studio to a home gym, garden rooms can be used for just about anything. One of the more popular functions though is to use them as a guest room for visiting friends and family. Here we share why a garden room can make the perfect spot for your visitor as well as our last-minute host checklist so you can be sure that you have your guest's needs covered.
Everyone gets their own space and privacy
Using your garden room to host your guests gives everyone a bit more space and comfort - which means no more guests having to kip on the living room sofas! Your guests will be much more comfortable if they have their own space to relax. What's more, you won't be tripping over them as can be the case when they're sleeping in a communal area.

Comfortable and cosy all year round
Provided that your garden room has been appropriately insulated, you should be able to enjoy it all year long. Having a thoroughly insulated garden room will mean that you won't need to worry about having guests over to stay during the winter months.

No more expenses for your guests
Your visiting guests won't have to fork out for expensive hotels and transport if they can stay in your garden guest room. This may even mean that guests will be able to come to stay more frequently during peak travel seasons when hotels are more expensive.
Guests get to spend quality time with you
Having your guests in the comfort of your garden guest house allows you to make the most of the time that they're visiting for. You'll be able to spend more time together as there will be no need to travel to and from hotels.
Able to accommodate unexpected visits
There are a number of reasons that a guest can land on your doorstep unexpectedly, from cancelled flights to illness to surprise drop-ins. If you turn your garden room into a spare room then you'll be able to accommodate guests at any point without a sweat.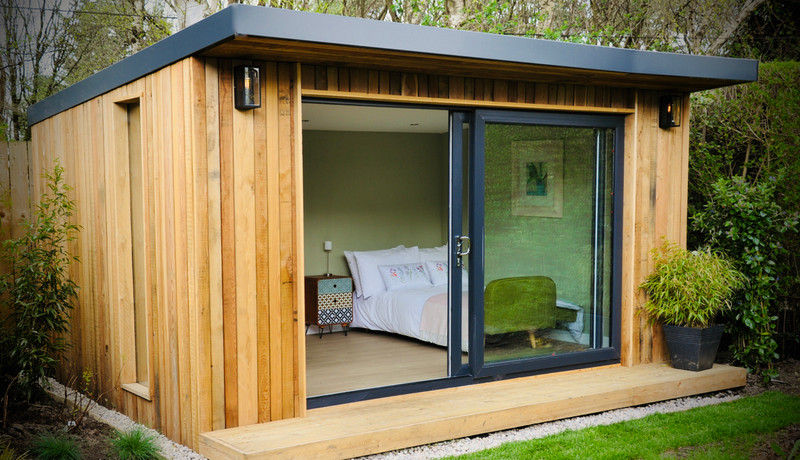 Our excellent host checklist
Even though you may not be able to predict every time you'll have a visitor, it's good to be prepared for those visits that you do know about. Being an excellent host isn't tricky, but if you've got a busy schedule it can be easy to forget those obvious little finishing touches that can make your guests stay more comfortable. Here we've shared some last-minute tips to help you out:
Don't cook or freeze your guests - many guests are too polite to say when they're overheating or too cold at night. What's more, if this keeps them awake in the middle of the night their chances of waking you up to tell you are pretty slim. Be prepared beforehand with plenty of blankets and show them how to open the windows of their garden room. If you know your guest quarters get extremely toasty then it may be time to invest in a fan that could help cool down the room.
Don't forget to stock up the bathroom - this may only seem applicable if your guest is lucky enough to have their own bathroom facilities, but rest assured this also applies to communal bathrooms. Be sure that there is enough toilet paper to accommodate an additional person and that they have access to soap, toothpaste, shampoos and shower gels. Ensure that there is easy access to fresh towels and provide guests with their own on arrival. Finally, go the extra mile with a back-up guest toothbrush in case your visitor has forgotten their own.
Check if your visitors have any dietary requirements - particularly allergies to foods - you don't want to offer your guests peanuts to snack on if they're deathly allergic! You don't need to pull out all the stops in the kitchen when you have a visitor, but make sure you are able to cook them a meal with food that they like. Bear in mind that eating in is cheaper than eating out, particularly if your guest is visiting for a long time. Do a food shop before your guest arrives to ensure that your kitchen is completely stocked up.
Clean up before they arrive - an obvious tip but an essential one nonetheless! Prior to your guest's arrival change their bedsheets and give their room a thorough dust and wipe down. Give the rest of your house a good clean and remove any unnecessary clutter. If your guests are staying for a while you may want to provide them with a note of your WiFi information and password so that they can stay connected online.
Garden rooms can be used for so many different purposes and can even serve as multifunctional rooms while you don't have guests staying. Check out our garden rooms and case studies for inspiration for what you can do with a garden room.