Outside In Garden Rooms is a multi-award-winning family-run business that specialises in designing, building and installing bespoke garden rooms in Glasgow, Edinburgh and central Scotland. Our highly-insulated, multi-purpose rooms are usable throughout the year - not just the warmer months!
Garden rooms deliver a host of benefits without the need for planning permission (provided guidelines are followed), making them a fast yet hugely beneficial addition to your property. They're also extremely versatile and can be used as a home office, additional space for ever-growing teenagers, a serene retreat for exercise or simply a place to relax and enjoy your garden.
All garden rooms are custom built in Glasgow and can be delivered and installed throughout central Scotland - including Glasgow, Edinburgh, Livingston, Stirling, Falkirk and Perth. They're built with high-quality, durable, waterproof materials and come with a 20-year guarantee on the roof.
Get in touch today for a free no-obligation quote.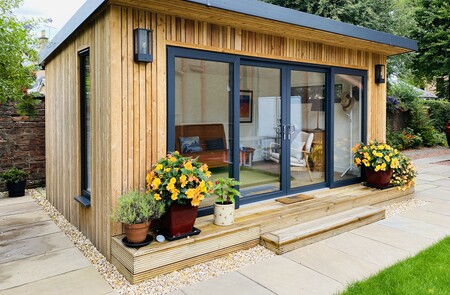 Request a Free Estimate
Our team can carry out a free site survey (within a 50-mile radius of our Glasgow base) and provide you with an accurate quote.
Request Survey