Fun, Festive Ideas for your Garden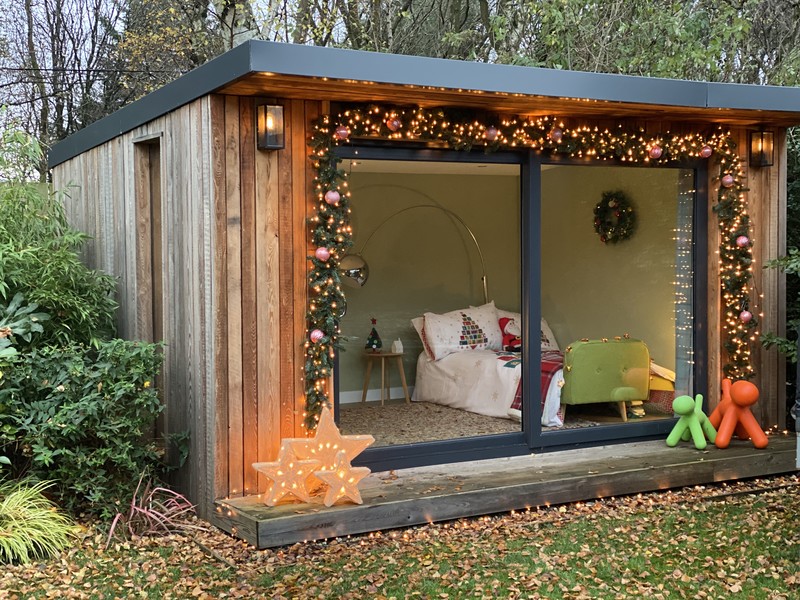 With Christmas just around the corner, you might be looking for more ways to share in the fun and festive cheer. Over winter it can become easy for your garden to look lifeless and bleak - trees are bare and frost makes it difficult for even the toughest of plants to thrive. Here, we share how you can transform your garden from dreary to cheery with some easy Christmas garden ideas.
Plant seasonal branches and berries
You may be missing the bright, vibrant flowers of the summer, but winter plants can be just as beautiful and can help bring back a bit of colour during the winter months.
If you're looking for that extra festive garden touch look at growing plants like holly, ivy or mistletoe that are well known for their festive appearance. Why not use leftover planters to create a cheerful winter holiday hanging basket display. Here you can unleash your creativity with holly sprigs, pine cones and more. You don't need to think exclusively plants either - why not add some baubles or fairy lights for that extra Christmasy touch?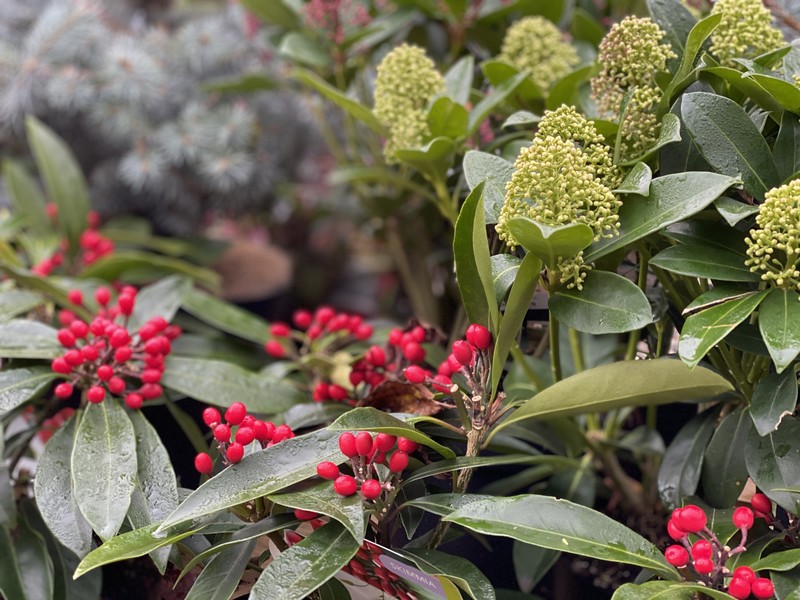 Add a touch of fairy lights
A Christmas garden display isn't complete without some fairy lights. With the darker nights drawing in fairy lights are the perfect way to lighten up the place and showcase your hard-worked-on winter displays. What's more, with your trees being empty of leaves, fairy lights can be artfully draped around bare branches to create an atmospheric garden. You can get playful with your fairy lights too - why not pop a string of fairy lights into some empty glass jars and hang them on tree branches or secure them to wooden fencing?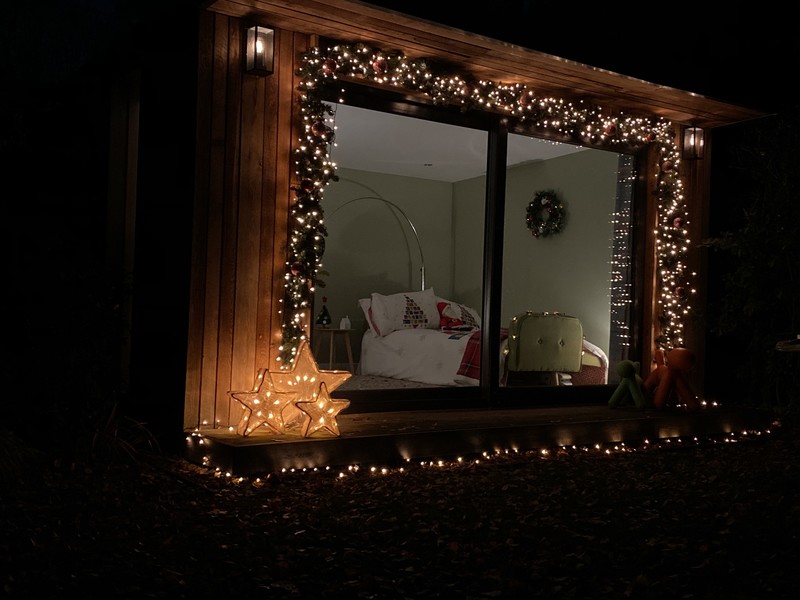 Be sure to be wildlife-aware! If your garden is a safe haven for local wildlife you may want to hold back on the fairy lights. Too much light can dazzle your garden wildlife and disrupt their sleeping and waking cycles. With most animals in hibernation at this time of year, you may not see the issue - at first. However, too much light can trick your local visitors into believing that winter is at an end and spring is here. In other words, it can put an end to hibernation too early meaning that local wildlife can struggle and even die if they emerge too early into the harsh winter climate.
A little light is fine - too much can be disastrous! So be wildlife considerate when planning your winter garden decorations. Aim to put fairy lights only in areas where wildlife are unlikely to inhabit - perhaps your front garden is better situated to have fairy lights than your back garden?
Invest in ethical outdoor decorations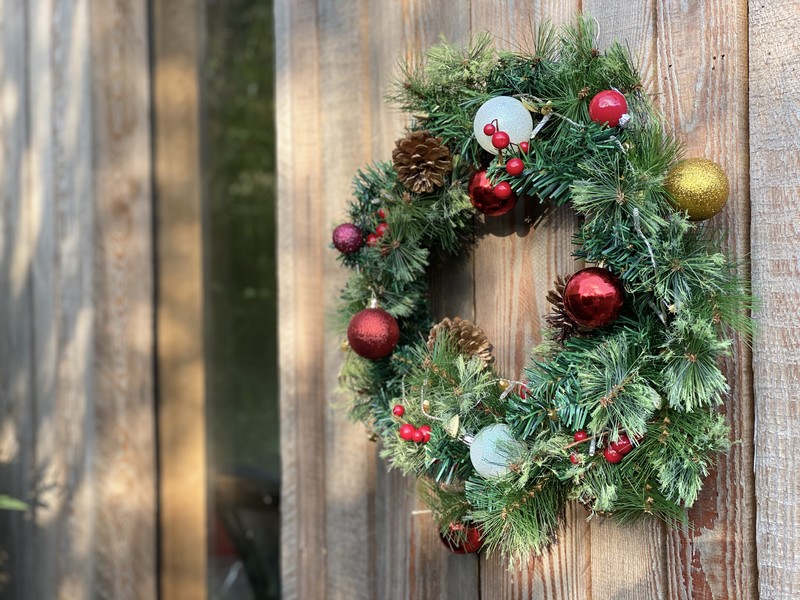 There are other outdoor Christmas decorations you can make use of without the worry of disturbing any local wildlife. Responsibly sourced Christmas wreaths can make for a cheery alternative and, if you're super crafty, why not have a go at making your own?
Create a snug winter wonderland in your garden room
If you enjoy the benefits of having a garden room this is another opportunity for you to spread the festive season cheer. From putting up a Christmas tree to making your own ornaments you can really make your garden room a Christmas haven. Here are a few DIY garden room Christmas decor ideas: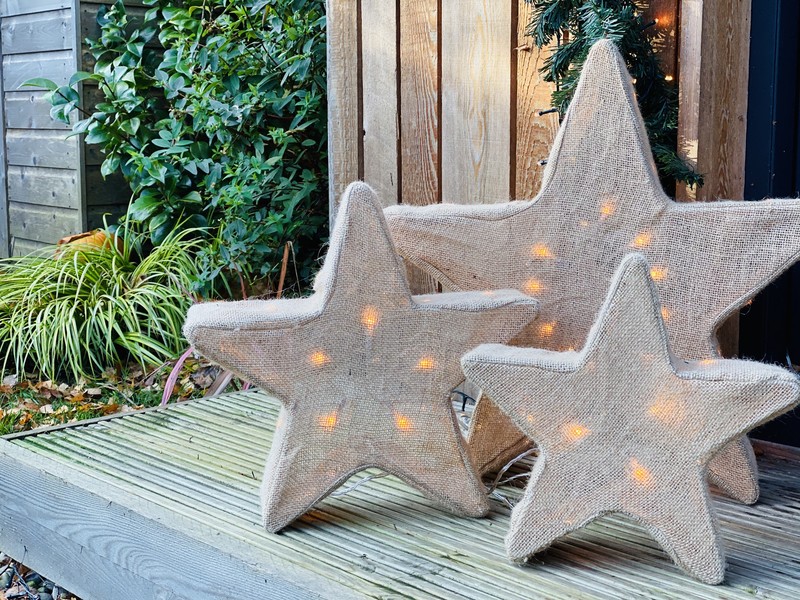 Paper snowflakes - while we may not get a white Christmas this year, paper snowflakes are an easy remedy and perfect for hanging near your garden room windows.
Twig reindeer - for the extra rustic feel why not make your own reindeer decorations using materials you can find outdoors and in your garden? Use fallen branches for the body, head and legs and twigs for the antlers. Eyes can be fashioned out of little stones and why not paint one red for Rudolph's nose?
Festive pine cones - pine cones can make a great natural (and environmentally friendly!) alternative to big plastic baubles. Spend a dry morning collecting some perfectly formed pinecones that have fallen - you don't want to do this when all the pinecones are soggy and soft from rainfall! Then simply tie a piece of string in a loop around the top to secure and there you have it - the perfect rustic bauble that can be hung around your garden room. For the extra festive touch, you can even paint the pinecones in festive silver, gold or red before hanging.
Attract robins to your garden
Robins are often referred to as the UK's favourite friendly garden bird and they are a merry visitor to any garden. Although we associate robins with Christmas time and winter, they are actually in our gardens all year round. However, they are most noticeable in winter as they are one of the few birds that will still sing in the colder months.
If you want to invite this merry friend into your garden, leaving out food will do the trick - especially as food can be scarce in winter.
What food will robins eat?
Robins will eat most bird-friendly foods such as fruit, nuts, suet cakes and mealworms. Try to leave food in a safe place, preferably high up, so that they are safe to eat in peace from the likes of cats and foxes. Nuts are rich in fat and so are perfect nutritious food for robins at this time of year. Be sure to avoid dry roasted or salted varieties as these can be high in toxins and extremely harmful to birds.
We believe that gardens should be enjoyed all year round regardless of what the temperamental weather throws at us! For more winter garden ideas check out our blog for tips on how to get the most out of your garden during the winter months.