What is a garden room?
A garden room is an individual building we can install in your garden. It's similar to an extension and provides valuable additional space but without the need for messy – often lengthy – building works.
Follow the link to learn more about our garden room installation process.
Garden rooms are ideally suited to people looking for a fast, non-invasive way to maximise the space on their property. If you've found yourself desperately needing to reclaim your dining room table, feeling frustrated with noisy teenagers, or wanting to spend more time in nature without having to endure harsh weather, a garden room is a perfect solution.
Our garden rooms are highly insulated as standard, meaning you can use them in every season, not just in summer. We also connect all garden rooms to your mains electricity supply as part of our service, meaning you can access screens, devices and electricals from inside.
Have more questions? Head to our garden room faq page to learn everything you need to know before inquiring.
What can you use a garden room for?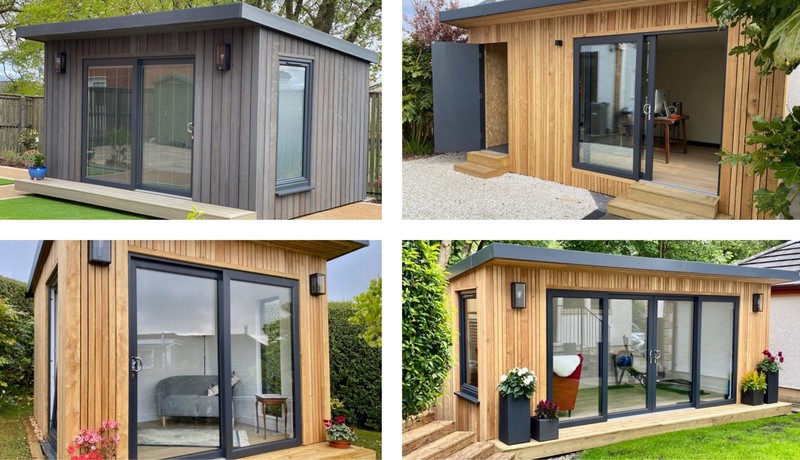 Our creative clients have found multiple uses for their garden rooms. Below is a list of the most common uses we've seen:
Garden office

Garden gym

Garden workshop

Garden bar

Garden lounge

Garden studio

Hang out spot for kids
Looking for more examples of garden rooms? Follow the link to view our case studies.
Do you need planning permission for a garden room?
In most cases, our garden rooms don't require planning permission. The reason for this is that have been designed to meet "permitted development" rules. That said, it's always best to check with your local authority before commissioning the installation of one and if you live in a conservation area you absolutely will require permission but worry not, we handle the entire process for you.
Below we've listed the permitted development rules from the Scottish Government website. These rules state that you don't need planning permission so long as the garden room:
is located at the back of the house

isn't used as a separate home to live in

doesn't take up half of the grounds behind your home

isn't higher than 4 metres

doesn't have any part that is a metre or less from the boundary and is no higher than 2.5 metres

Doesn't have eaves (the part where the wall meets the roof) that are higher than 3 metres

if the land is in a conservation area or the grounds of a listed building, the ancillary building has a footprint of less than 4 square metres
How can I customise a garden room?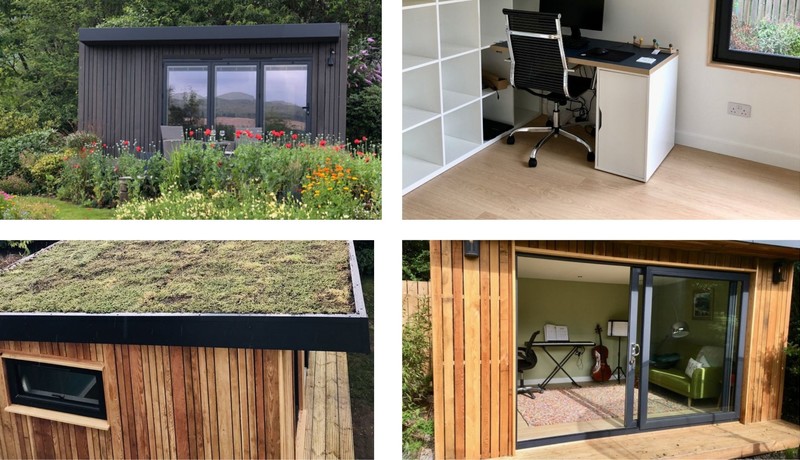 While the basic frames of our garden rooms are very similar, there are multiple ways you can make them uniquely yours.
With the roof, for example, you have the option of adding a living Sedum Blanket System. These provide an attractive feature that neatly ties your garden room in with the garden. And, as a bonus, the Sedum roof also helps enrich the wildlife in your garden by providing a habitat for pollinators like bees and butterflies.
As for doors and windows, our standard model garden rooms feature uPVC frames. However, due to rising popularity, we also offer an upgrade to aluminium bi-folds which provide slimmer frames, easy-glide opening mechanisms and more natural light.
Our Garden Rooms as standard are clad in Siberian larch but we also offer pre-treated, stained timber cladding for a more striking look. Follow the link to check out an example of a driftwood finish cladding we created using IRO timber.
We've chosen Quick-Step laminate as our go-to flooring for standard models an we offer a range of colours to suit your style. The click and lock system is waterproof, durable and easy to maintain. Of course, if you're looking for something different, perhaps rubber matting to suit a gym floor, we can discuss during the design phase of your project and explore suitable options.
What are the different garden room sizes and how much do they cost?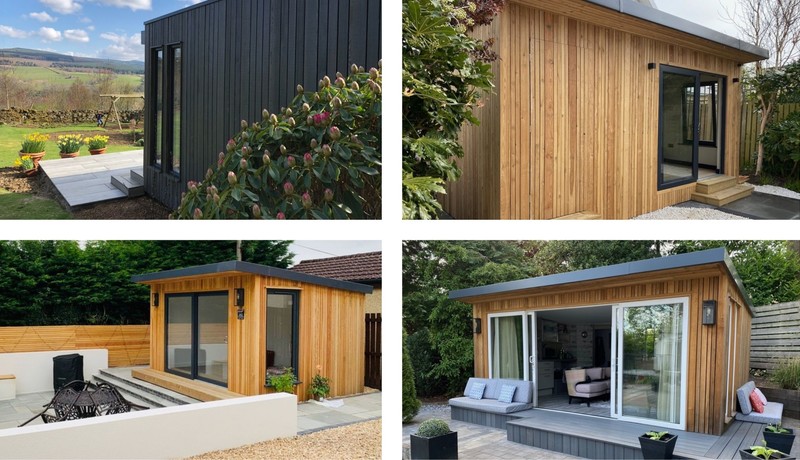 Below are some of our most popular sized rooms showing guideline prices to give you an idea of what we can achieve. Glazing options can be tailored to suit within the range.
Uno Rooms
Our Uno rooms are a popular single room option. Though we can build these to larger specifications, they also suit people with limited space.
Our smallest Uno room comes in at 2.4m x 2.4m, with prices starting from £11,995 + VAT.
The mid-size Uno room is 3.6m wide x 3m deep, with prices starting from £17,500 + VAT.
And, finally, prices for our larger 4.2m wide x 3m deep Uno room start at £19,995 + VAT.
Duo Garden Room
If you're looking for more flexible space – perhaps an office with storage or a garden room with a gym – then the most suitable option would be a Duo room.
As the name describes our Duo rooms provide two separate spaces within one garden room. As an example, for a 6m wide x 3m deep room, prices start from £27,500 + VAT.
Next steps
Considering having a garden room installed on your property? We'd love to help.
We predominantly service central Scotland but, if you like our work and you're outside of our area, give us a call before ruling us out. In the past, we've installed garden rooms as far north as Glencoe by delivering a completed room via crane directly to the clients' door!
If you're unsure exactly what you're looking for, it's best to get in touch with us for a quick (and free) phone consultation. You can find the relevant numbers to call based on your location here.
Alternatively, if you know exactly what you want, including size and specifications, you can use this form to receive a free, no-obligation quote.