Female Directors in a Male-Dominated Industry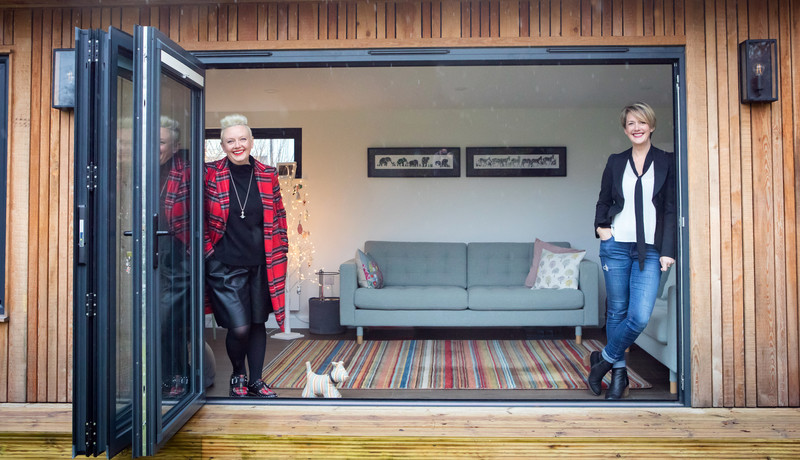 An important day is celebrated every year on the 8th of March - International Women's Day. This global day celebrates the achievements of women and aims to raise awareness about women's equality. Being a female-led company in a male-dominated industry, we felt it pertinent to celebrate the female leaders at Outside In Garden Rooms.
Meet Melanie Russell and Wendy Isaac, Directors of Outside In Garden Rooms. These women share more than a love for stunning garden rooms, they share genes! The Glasgow and Edinburgh-based sisters work harmoniously together running the day-to-day of the company. Wendy oversees all projects in Edinburgh and Melanie oversees all projects in Glasgow and their surrounding areas.
The hands-on duo are involved in projects from the very beginning right through to the end, ensuring that every client is 100% happy with their completed garden room. Customer satisfaction is of the utmost importance, which shines through in the company's 4.9 Google star rating and Consumer Protection Association results which revealed that 100% of surveyed customers rated the company 'excellent' or 'very good'.
Melanie and Wendy might not have hailed from a background in the construction or garden industry but they both bring a wealth of experience, determination and enthusiasm to the table. In their previous roles, Melanie co-owned a digital agency that specialises in everything from digital marketing to website design and build. Whilst Wendy was a senior Executive of a TV & Film production company and was in charge of the smooth running of operations.
In 2017, Melanie spotted a gap in the market for a company offering contemporary garden rooms in the central belt of Scotland. After extensive research and product development, Outside In Garden Rooms was born. The company has had continued year-on-year success and began expanding in 2020, which is when Wendy joined the ranks.
Outside In Garden Rooms is a far cry from where it began a few years ago. It's now a multi-award-winning company with more than 60 garden room builds under its belt. Some of the accolades received over the years include 'Start-up Business of the Year Award', 'Excellence Award for Courageous Entrepreneurship' and 'Best Contemporary Garden Room Design Company (Scotland)'.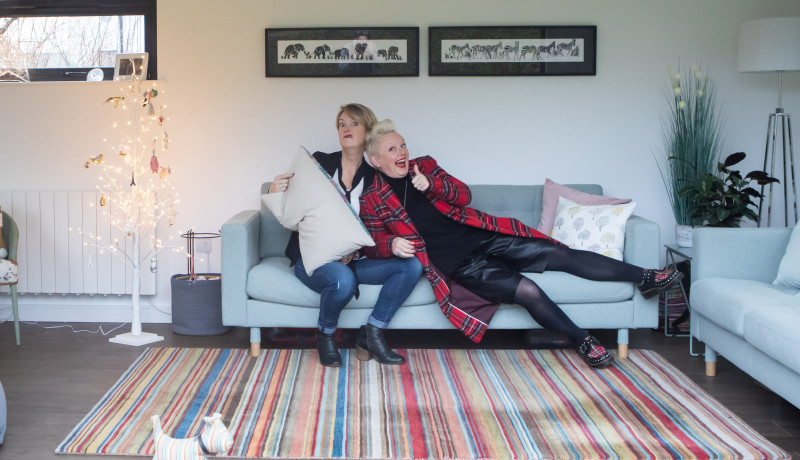 In the business world, there's a saying that people are the most important asset and we couldn't agree more. Without Melanie, Outside In Garden Rooms wouldn't exist today and without Wendy, the company's expansion plans wouldn't have become a reality. Not to mention that without the highly-qualified build team (headed up by Michael who has over 25 years of experience), none of the exceptional garden room builds would have been possible. Every member of the team is a credit to the company and they have each had a hand in helping it to not only succeed but grow.
Now we'll pass you over to Melanie and Wendy who have answered a few questions in honour of International Women's Day.
Who are the women that inspire you the most and why?
Melanie: "Oo there are many from the obvious choice of Karen Brady standing tall in a male-dominated industry but really, all my fellow small business mums and friends who absolutely rock the juggling act of parenthood with running a business. It's blooming hard so anyone who can do that is inspirational and not to be messed with!"
Wendy: "I know it sounds cheesy but my sister. I mean who starts a company, on her own, in an area she knows very little about, in a male-dominated industry AND with two young kids and then goes and makes it a success. Hats off. And she's my little sister – whaaat! Go Mel."
What advice would you give to women who aspire to take on leadership positions?
Melanie: "Don't let anyone tell you that you can't! Believe in yourself, be confident and prepare to work damn hard. At the end of the day, the buck stops with you so if that's stress and pressure you can't cope with, perhaps leadership isn't for you. If you're 100% confident in your product, business, team etc. and are prepared to deal with the good and the bad, you can lead with confidence."
Wendy: "Have confidence in who you are. There are different types of leaders out there, not every leader needs to shout the loudest. Listen to your gut. I've made many wrong decisions because I didn't listen to my gut and then regretted it. If it feels right, it is. If it doesn't feel right, challenge it, question it and make a better decision because of it. Be a good listener, be fair, be kind and above all believe in yourself. One of the hardest things to do."
What advice would you give to women who want to succeed in male-dominated careers?
Melanie: "I don't think of myself as any different to my male counterparts so perhaps that's why I feel I've never had an issue. I believe I'm equally capable of doing what I do regardless of gender so I treat people the way I expect to be treated and I've found that to stand me in good stead in this business. I'm not arrogant enough to think I'm better in any way, just equal. If someone knows more than me, be they male or female, I'll always listen to that and learn from them so again it's about respecting others and treating people with respect which I feel has been reciprocal."
Wendy: "I have just come into this industry and where are my nice shoes? Covered in mud. It is definitely hard not to feel intimidated. But we all have a place and we all have something to give and if you do your job well there isn't any reason why anyone, male or female, shouldn't respect you. Don't be afraid to ask the questions, learn your craft, and prove you were meant to be here."
What tips would you give to aspiring female entrepreneurs?
Melanie: "Do your research, be confident and believe in what you do. Listen and learn from everyone. If you don't know something, don't bluff it, be honest, go learn and you'll be all the stronger for that."
What steps have you taken to ensure that Outside In Garden Rooms is an equal opportunities workplace?
Melanie: "We exclude no one from our recruitment process, if they're right for the job, they'll be considered without prejudice."

Find out more about our company, learn about our customisable garden rooms or browse through our case studies.