Garden room checklist
Garden rooms are a great choice for anyone looking for additional living or recreational space. They're more cost-effective than an extension and cause no disruption to your home. You can continue living in your house peacefully as the garden room of your dreams is built only a stone's throw away!
If you're ready to embark on this new exciting project and you'd like to put your own stamp on your garden room, you've come to the right place! At Outside In Garden Rooms, we build and install bespoke garden rooms throughout central Scotland which are tailored to your space, budget and needs. We pride ourselves on building a unique and special space that you will treasure for years to come - which is why it's important that you're involved in the initial design concept.
Read on to find out what questions to ask yourself before our initial face-to-face consultation meeting.
What will I use the garden room for?
Garden rooms have so many potential uses and they can also be multipurpose. It's worth thinking about all of the ways that you'd like to use your garden room so that this can be factored into the designs. Over the years, we have built garden rooms for a variety of uses including home office, home gym, playroom, hobby room and garden lounge. View our online gallery to look through some of our past projects.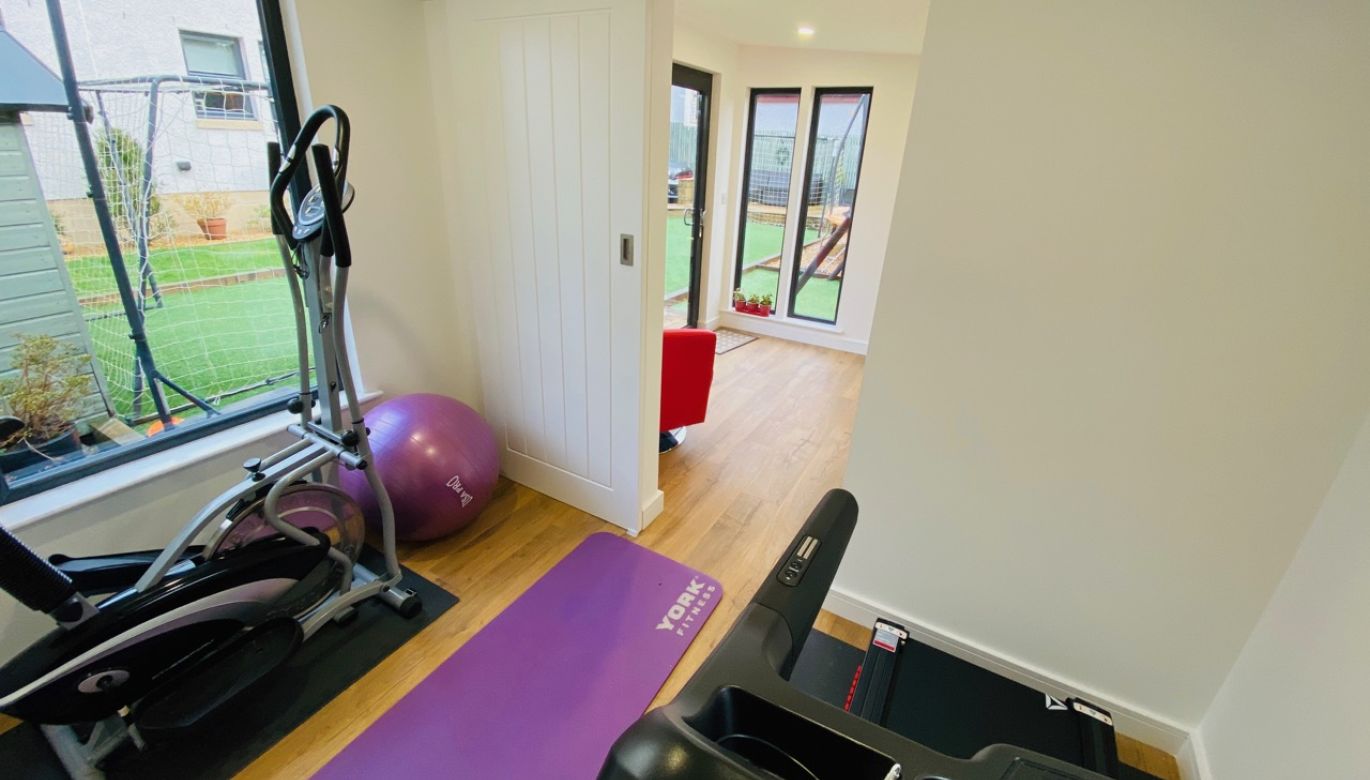 How many people will the garden room need to cater for?
Whether you'd like a large statement piece to entertain lots of guests or a compact room just for you, the choice is yours! Garden rooms will stand the test of time so it's also worth looking towards the future and thinking about how the garden room might need to adapt to your changing needs over the years. Remember though, your garden room doesn't necessarily need to be large to accommodate guests. This Uno Garden Room is 3.2 x 3.4 metres and it has ample space for relaxing with guests, as well as space for home-working. Find out more about our different garden room sizes here.
What exterior cladding would I prefer?
We install Siberian Larch cladding on all of our garden rooms as standard however this can be customised to an alternative cladding of your choice. For example, we've previously installed IRO architectural cladding which is stained dark grey and it produces a striking contemporary look.
Siberian larch cladding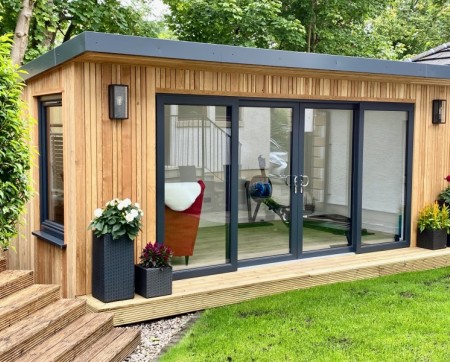 IRO architectural cladding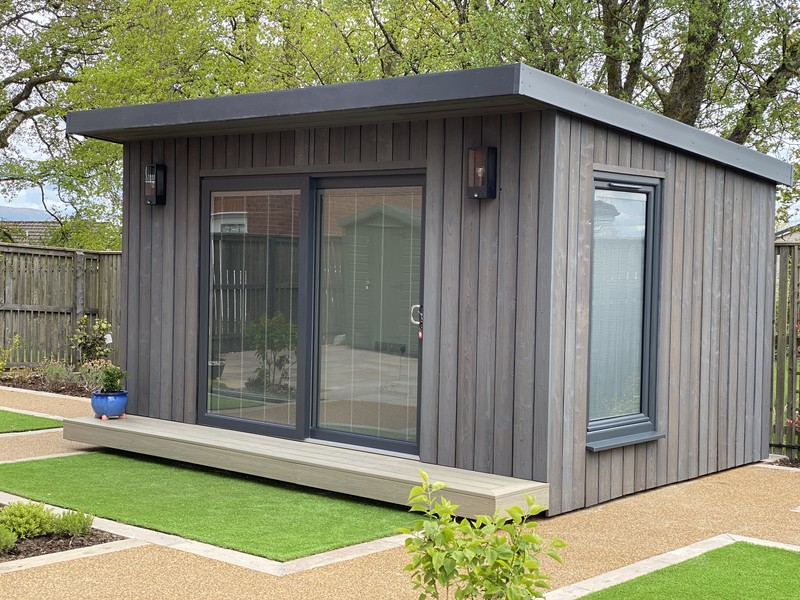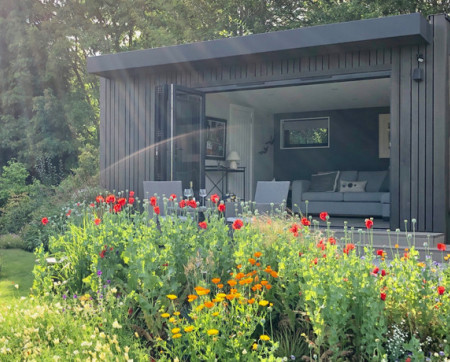 How many windows and doors will I need?
Exposure to natural light has many health benefits - it can ward off seasonal depression, boost vitamin D (when the windows are open) and it can even improve your sleep. In addition to deciding on the number of windows and doors, you'll want to think about placement. If you have spectacular views, then you may want large windows or bi-folding doors to get uninterrupted panoramic views. On the other hand, if your garden is overlooked then you may want to position your windows tactfully in order to maintain your privacy.
There are a number of ways to maximise natural light for example:
Velux roof window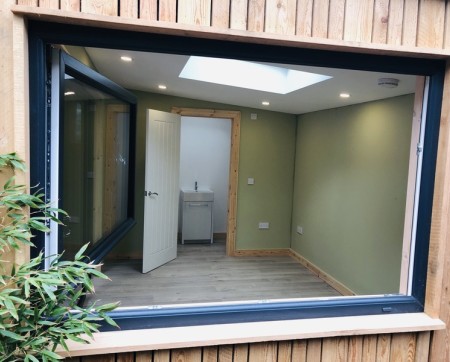 Bi-fold doors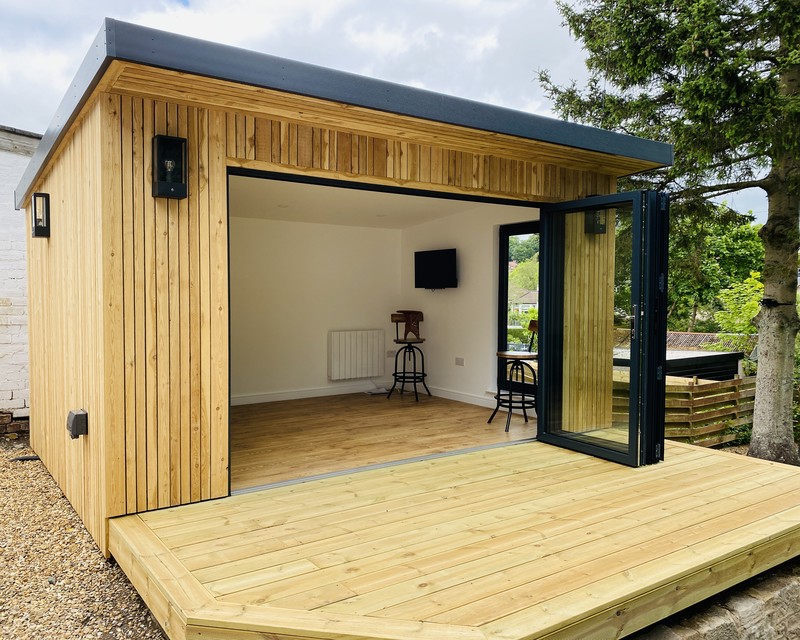 Small hopper window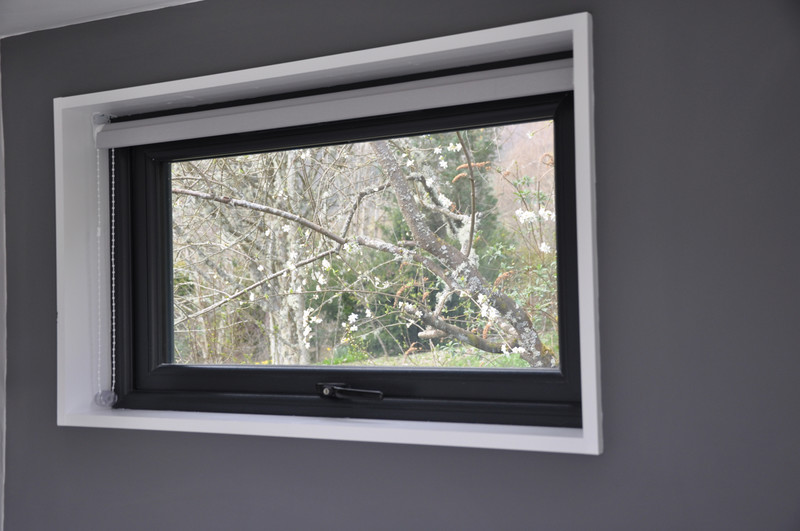 What roof would I rather have?
If you'd like the roof to blend in with the surrounding landscape then a sedum roof might be the right choice for you. This is a green roof with vegetation that's lightweight, cost-effective and virtually maintenance-free.
We're approved installers of the Firestone EPDM RubberCover, therefore, provide a 20-year guarantee on the rubber membrane that covers all of our rooms.
Sedum roof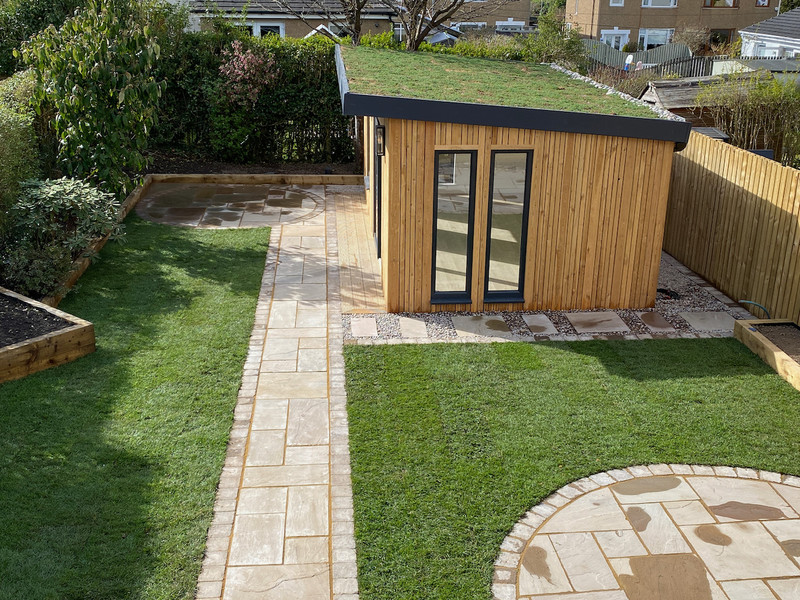 What lighting would I like?
As standard, each garden room is fitted with white spotlights and white, flat plate switch covers to create a streamlined look. However, alternative lighting and finishes can be installed at your request, for example, we have installed bespoke LED strip lighting in past projects. We can also install exterior lighting to illuminate your garden room.
Spotlights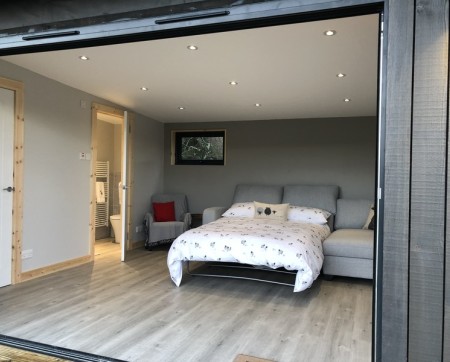 Bespoke LED lighting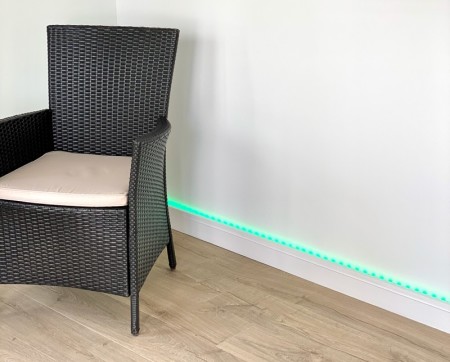 Outdoor lighting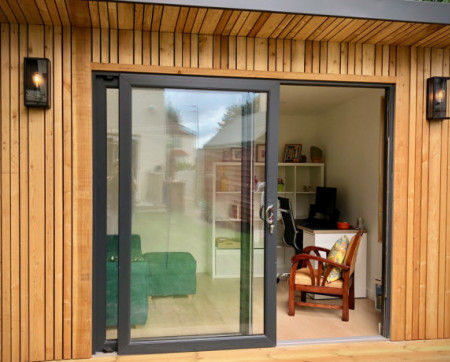 What flooring would I like?
We recommend the latest generation of Quick-Step laminate flooring due to its waterproof qualities and the manufacturer's warranty of up to 25 years. There is a variety of flooring options and colours to choose from to give your garden room that personal touch.
White Quick-Step laminate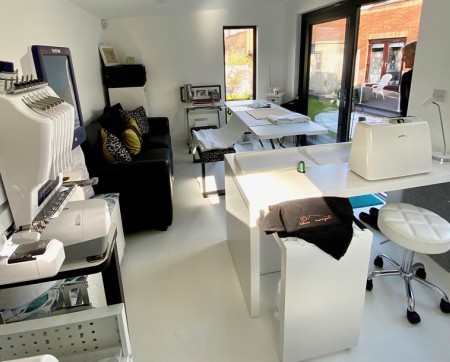 Grey Quick-Step laminate
What source of heating will I need?
There are a few options when it comes to heating your garden room – in the smaller rooms, stand-alone convection heaters work well however we also install electric radiators which can be controlled via an app. It depends on what you intend to use your room for, how frequently you'll be in there and how cosy you'd like it to be.
Electric radiator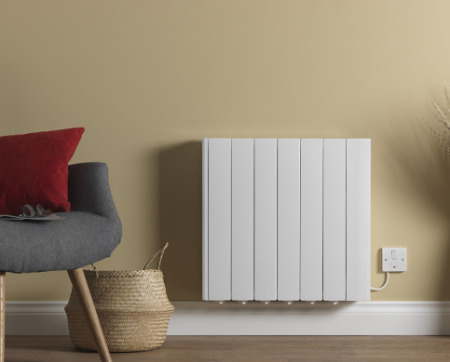 How many plug sockets will I need?
Have you ever moved into a new home excited only to find that there's a severe lack of plugs? Or plenty but just in the wrong place? It's those little details that can really make or break a room and it can be costly to fix. It's worthwhile thinking about your electrical needs and how you plan to design the interior so that plug sockets can be installed in suitable places. We install white plug sockets with USB ports as standard, however, alternative finishes can be installed upon request.
Silver plug sockets with USB ports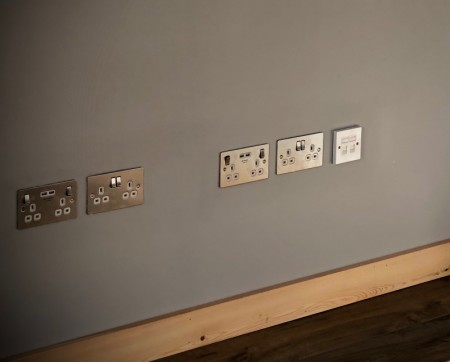 What other customised features do I want?
Some of the extra customised features that we have installed over the years include ensuite bathrooms, accessible ramp, decking and retractable canopy for a hot tub, Juliette balcony and a built-in sound system. If you have any other customisation ideas, please let us know in our initial consultation meeting.
Juliette balcony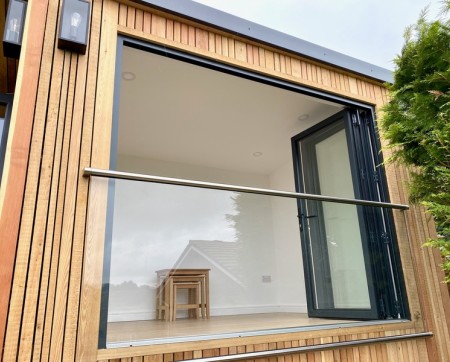 Accessible ramp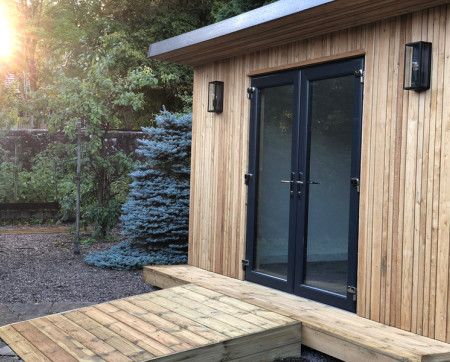 Decking and retractable canopy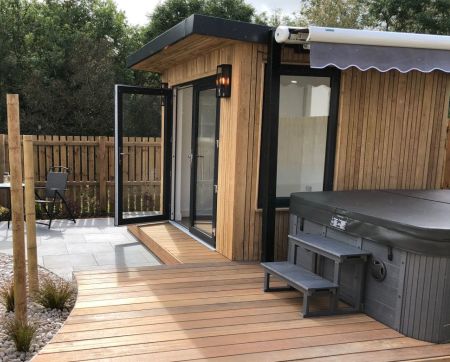 What time of year would I like the garden room to be installed?
Whilst garden rooms can be installed in all weather conditions, it's worthwhile considering what time of year is best for you. Some people prefer to have their garden rooms installed in winter while their garden sleeps, whilst others prefer to have their garden rooms installed in spring so that it's ready to be enjoyed in summer. Whichever season you choose, we'd suggest getting the ball rolling as soon as possible to ensure you can have your doors open and be ready to relax as soon as possible.
Hopefully, you'll now have a better idea of how you'd like your garden room to look. Whatever your needs, our dedicated team are confident that we can build the garden room of your dreams. If you haven't already booked your initial consultation, get in touch today. A member of our team will then arrange a suitable time to visit your garden, discuss your garden room project and provide a free no-obligation quote.