Ground Screws: An Environmentally Friendly Alternative to Concrete
At Outside In Garden Rooms, we are committed to delivering high quality, durable garden rooms - all whilst being respectful of the environment.
From the base up, we have made environmentally friendly choices wherever possible. As standard, each of our garden rooms is clad in responsibly sourced FSC Siberian Larch, fully insulated and built with double glazed windows and doors. We source all of our materials from local suppliers to minimise travel and to help reduce carbon emissions. Where possible, we also use ground screw foundations which are an eco-friendly alternative to concrete.
Watch our Ground Screw installations in action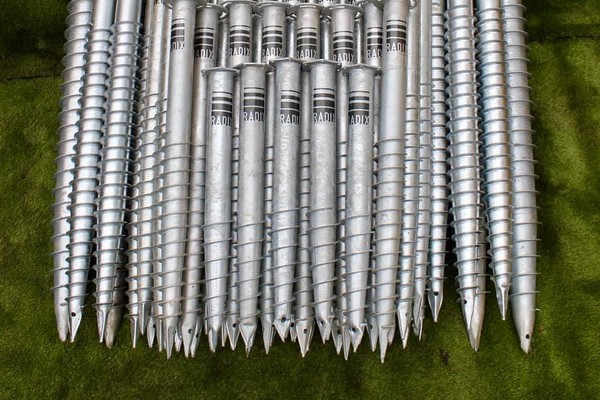 Environmental Benefits of Ground Screws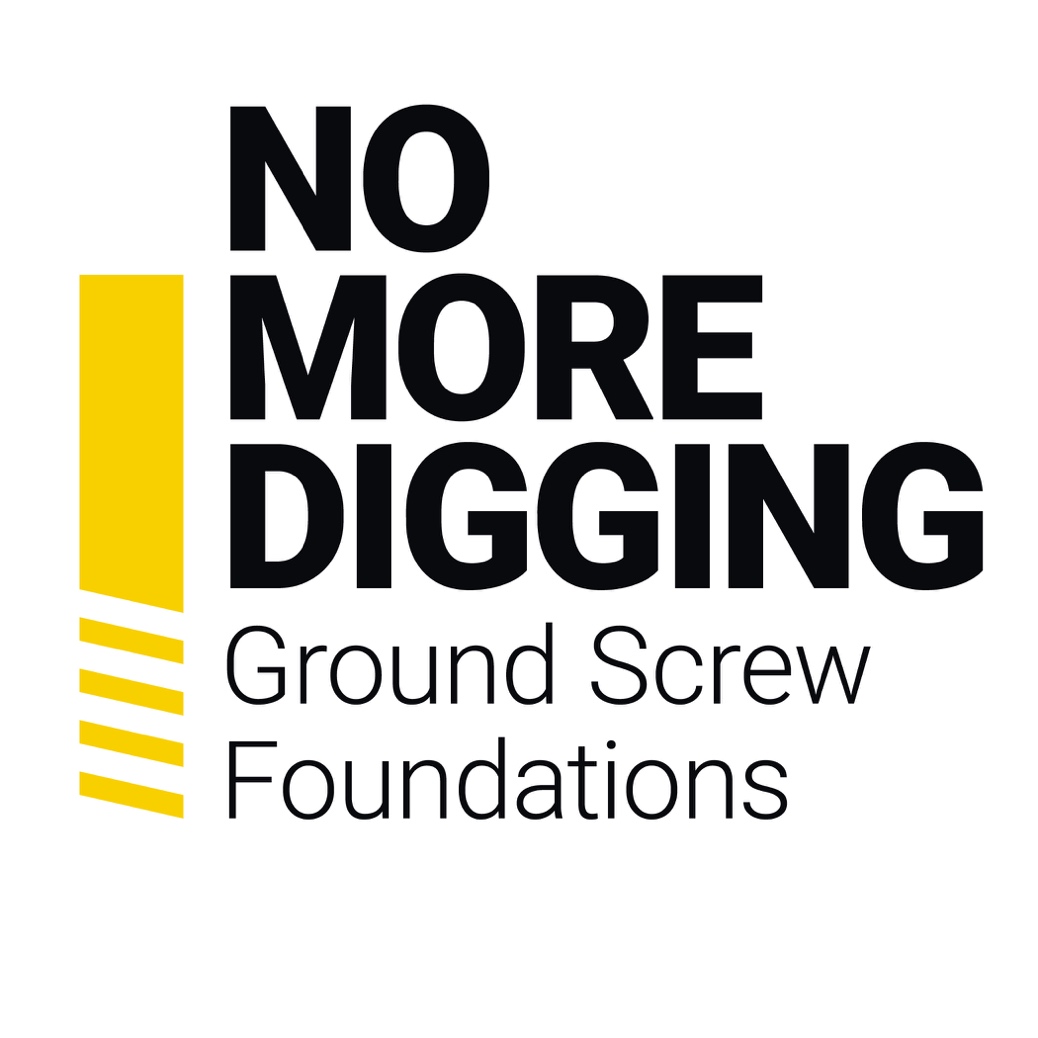 Each of our builds begin with a strong, level foundation; formed through the use of ground screws where possible. We work alongside ground screw experts No More Digging who work in collaboration with Radix Base Systems to develop a system which uses fewer resources and provides a low carbon replacement for concrete.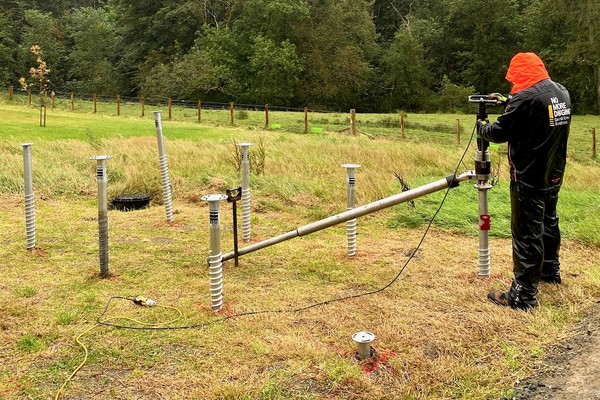 Our partnership with No More Digging means that we can build garden room foundations with minimal impact, damage or disruption to the environment.
Did you know that:
Concrete is the 2nd highest consumed substance on Earth after water?

3 tonnes of concrete is used on average by every person on the planet per year?

10% of carbon emissions are a result of global cement production?
Other Advantages
Ground screws offer many other benefits over concrete, including:
No Disruption to your Garden
Rather than digging the land to make it flat, ground screw foundations provide a solution to challenges such as hard-to-access areas and uneven or sloping ground. This means minimal impact to the ground and surrounding area, alongside reduced disposal and mess!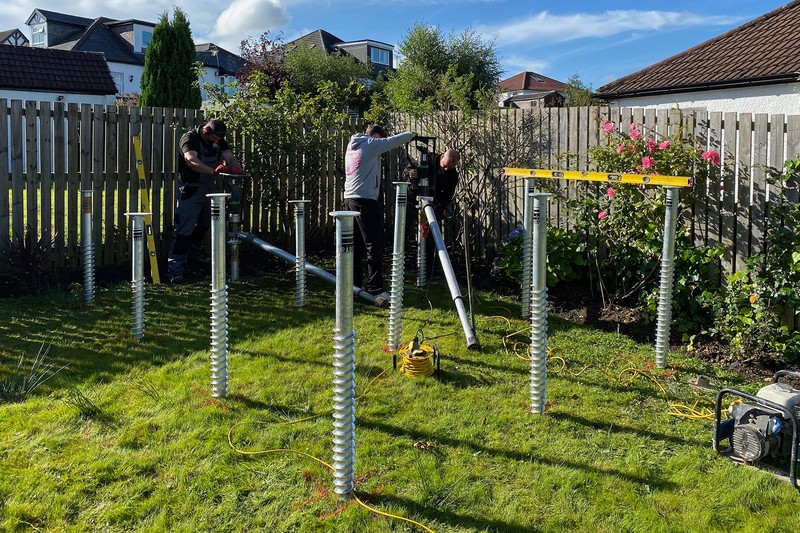 Reduced Installation Time
In comparison to a traditional concrete foundation, ground screws save on time. In fact, it's 70% faster to install than a concrete foundation which involves additional steps such as excavation, formwork and hardening.
Year-Round Installation
In a country that experiences up to 250 days of rainfall each year, it's especially important that the foundation can be installed all year round, no matter what the weather conditions. On the other hand, if concrete were to be poured in the rain, it may be compromised.
Strong, Long-lasting Foundations
Each screw is made from strong, structural steel and is weather-proofed for long-lasting protection and life expectancy. On top of each screw sits a standard or bespoke bracket which the floor joists can be added to.
To find out more about our partnership with No More Digging and the benefits of opting for ground screw foundations, view No More Digging's brochure.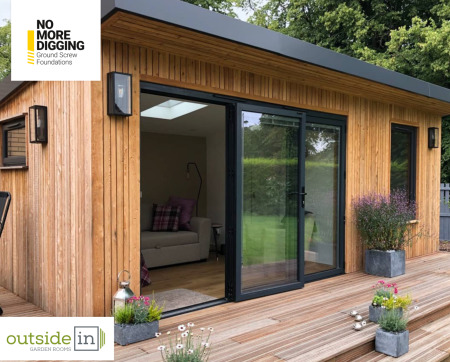 Installation
At Outside In Garden Rooms, we install the foundations for clients as part of all builds. Once the ground screws are installed, the base frame is fixed in place to create the foundation of your garden room. From there, the rest of the installation process can take place.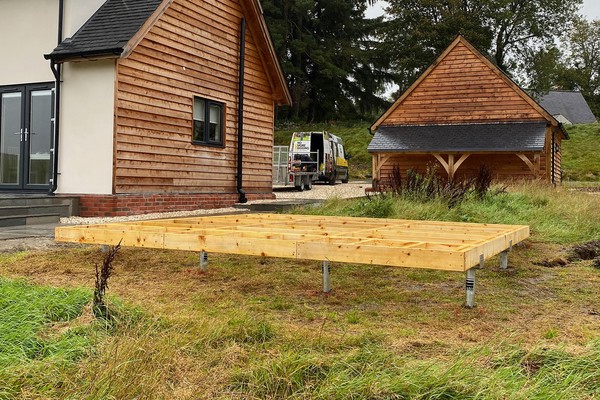 Ready for a Garden Room?
All of our garden rooms are built from scratch by our team, using high-quality, durable, waterproof materials. We're members of the Consumer Protection Association, offer a 20-year warranty on the roof membrane, superior security locks on windows and doors, as well as a 10-year insurance backed guarantee on the entire build.
Although there are a number of features that come as standard, every garden room is fully customisable and will be catered to your budget and needs. Get in touch with us today for a free no-obligation quote.