We specialise in designing and building bespoke, highly insulated garden rooms in Glasgow, Edinburgh and central Scotland which are useable throughout the year, not just the warmer months.
No planning permission required (provided Government guidelines are followed). Constructed in under two weeks. Fully Guaranteed.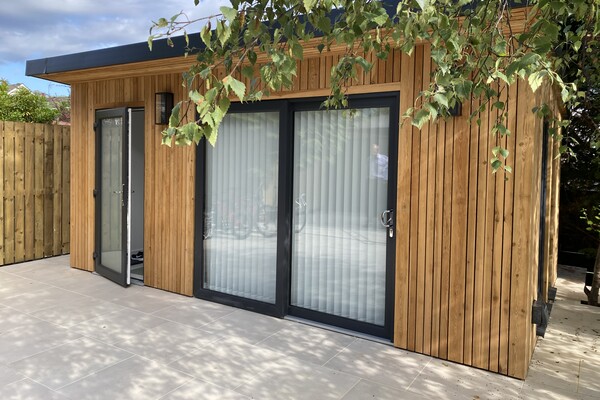 Garden Room customisation
Our Garden Rooms can be customised to suit your needs. One room, two rooms, garden store or utility room to the side.
They make the perfect garden office, garden pod, garden workshop, garden studio, garden gym, and so much more.
Contact us to discuss your garden room wants and needs.
What our clients say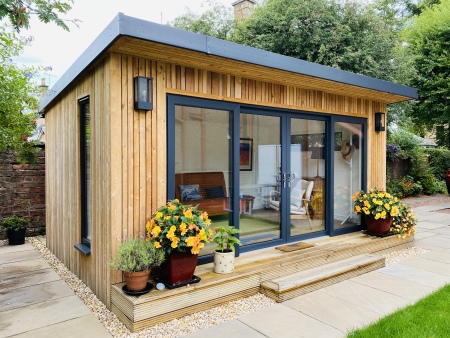 "I really appreciated the professionalism, workmanship and courtesy of the entire build team. Nothing was too much trouble."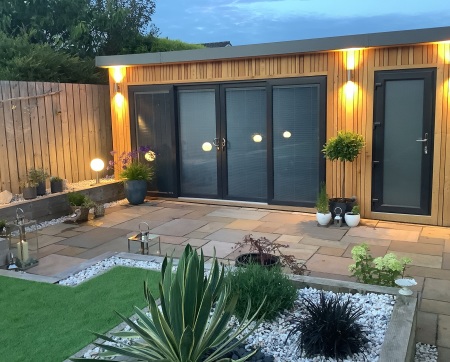 "Customer satisfaction and exceptional quality are truly at the heart of their business offering."
FAQs
Do I need planning permission for a Garden Room?
In Scotland, most ancillary buildings don't require planning permission, because most meet a set of rules called 'permitted development'. This does not apply if you're in a conservation area but read more on our full FAQ's page here.
Can I use my Garden Room all year round?
Absolutely, our Rooms are highly insulated therefore perfect for year-round use. The windows and doors are UPVc double glazed as standard (the same as you'd have in your home) so deliver the same level of heat retention.
Can a garden room be built on a slope?
Absolutely! If the site is suitable, ground screw foundations are fully capable of creating a level platform without the need for massive concrete foundations. Contact us to discuss what's possible.
I have a very small garden, can I fit a Garden Room in?
As long as the room doesn't take up more than 50% of your back garden (including all other out buildings and extensions) you're fine!
Can I put a toilet in my Garden Room?
If you include a toilet, the room becomes classed as a dwelling therefore will require a full building warrant from your council which can add thousands and months to the process.
As featured in...